Old Fashioned March
Yes, we're all sick and tired of hibernating. Winter came late, and it came hard - a far cry from last year's Memphis-like conditions. So far: one 40-degree high in March.
According to Michael Griesinger at NOAA the Twin Cities have averaged 17 days at or above 40F in March since 1980. This will be the first March since 2002 with fewer than 10 days of 40+.
Last year freakishly strong west winds aloft swept mild, Pacific air into Minnesota. By late March flowers were blooming, ice off many lakes. Instant May. This year prevailing jet stream winds are unusually light. No warm winds from Seattle & Vancouver - allowing Canadian air to linger week after chilling week.
A quiet week is shaping up; highs top 40 by Thursday or Friday. The normally reliable European model is hinting at 50F with scattered T-showers a week from tomorrow.
Let's hope for a gradual thaw in coming weeks. Sudden warmth, coupled with rain, could unleash the 3-6 inches of water in the snow pack up north. NOAA says a "concrete frost" over southern Minnesota (saturated, frozen ground near the surface) means rain or melting snow will immediately run off, much like it does on concrete. What a strange pattern.
* photo above courtesy of Tom Purdy.
40 Degree Highs In March
. Here's a portion of an e-mail from Michael Griesinger at NOAA: "
The record for FEWEST number of days with highs greater than or equal to 40 is 0 from 1899 and 1965. At the other end of the spectrum, the record for the GREATEST number of days in March with highs greater than or equal to 40 was 31 (that would be everyday for those keeping score at home!), which occurred in 1878. Incidentally, the winter of 1877-1878 was known locally as the year without a winter and the 1877-78 winter still holds the record for the warmest ever (based on mean temp) in the Twin Cities!
The interesting tidbit to me though that came from this stat is that this will be the first March since 2002 where the number of days in March with a high of 40 or more will be less than 10! From 1873-2012, the Twin Cities has averaged 13.6 days in March with a high of 40 or more, though this number goes up to 17 if you only look at 1980-2012. Based on our 1980-2010 averages, the average high hits 40 on the 13th...so there are 19 days (13th-31st) where the average high is 40 or more.
Of the 139 March's between 1873 and 2012, 37 years have had fewer than 10 days with a high of 40 or more in March (27% of all years). However, only 3 of these 37 March's have happened since 1980! That would be just 3 out of 33 years since 1980 (84, 01, 02), or 9%! The other 34 years all came from 1975 and earlier. Needless to say, based on recent history, what we have seen for cool temps this March has been very rare, though this type of March was more common from the 1870s through the 1970s (32% of March's from 1873-1979 had fewer than ten 40 degree highs)!"
Slow Moderation
. I wouldn't exactly call it a warm front, but temperatures trend slightly milder, reaching the 40s for highs by late week and next weekend, much closer to average for late April. Temperatures aloft should be warm enough for light rain showers Saturday, again Tuesday of next week, according to ECMWF (European) model data.
Another Nor'easter, Then Quiet.
Heavy wet snow pushes into portions of the Mid Atlantic Region today, although I expect more rain than snow from New York City to Washington D.C. Behind the storm a fresh surge of dry, chilly air - a week of relatively quiet weather from coast to coast. NAM model above: NOAA.
March-uary
. The calendar says March 25, but the latest snowcover map looks like something out of late January; more than 16-24" on the ground over much of central and northern Minnesota. Map courtesy of Ham Weather.
Elevated Risk Of Flooding Due To "Concrete Frost"
. To be honest, this is the first time I've heard this expression. The
Twin Cities office of The National Weather Service
has more details: "
With the snowfall in February, conditions have changed from below normal with the January Outlooks to a Normal Risk of Flooding with the February Outlooks for locations including:
* Montevideo on the Minnesota River
* Granite Falls on the Minnesota River
* Redwood Falls on the Redwood River
* New Ulm on the Cottonwood River
* Long Prairie on the Long Prairie River
* St. Cloud on the Sauk River
* St. Cloud on the Mississippi River
While severe to extreme drought conditions still exist across the region, precipitation from December 2012 through the first part of March has been near normal to even above normal in some areas. Hence, some regions do have a decent snow pack with water equivalents of 3-5". The graphic (above) shows the amount of water in the snow pack on March 6, 2013.
In addition to the more common river flood threat, this winter parts of Minnesota and Wisconsin have concrete frost. Concrete Frost is when the top layer of soil becomes saturated and is solidly froszen. Until it thaws and allows moisture to travel through the soil, any rain/snow melt will run off similar to how it does on concrete. The image below shows the areas of concern for Concrete Frost and potential quick response flooding
."
* A worst-case scenario for flooding would be a rapid rise in temperature accompanied by heavy rain. This would create massive melting of snow and possible flash flooding. The extended outlook calls for mostly 30s and 40s for highs into the first week of April. With any luck we'll have a nice, gradual, slow-motion thaw.
* The NWS will release their next flood outlook on March 29.
The Winter The Polar Vortex Collapsed.
I've noticed an unusually weak polar vortex in recent months, and this article from
The Daily Kos
confirms what I'm seeing. It may be counterintuitive, but our unusually cold and snowy March may be the result of record ice melt in the Arctic, and how that's impacting prevailing jet stream winds aloft. Here's an excerpt: "...
One measure of how contorted the jet stream has become is by measuring the difference in pressure between the Icelandic Low and the Azores High. There are two indices used to do this--one called the Arctic Oscillation (AO), which treats the flow over the entire Northern Hemisphere, and another called the North Atlantic Oscillation (NAO), which is more focused on the North Atlantic. The two are closely related about 90% of the time. When these indices are strongly negative, the pressure difference between the Icelandic Low and the Azores High is low.
This results in a weaker jet stream, allowing it to take large, meandering loops, letting cold air to spill far to the south from the Arctic into the mid-latitudes. The AO index hit -5.2 today (March 20).
This is the second most extreme March value of the index since record keeping began in 1948; only an AO value of -6.3 in March 1970 was more extreme
."
Arctic Oscillation
. To make a long weather story mercifully short, the more negative the AO (Arctic Oscillation) the lighter the prevailing westerly winds are blowing at high latitudes. Weaker wind speeds increase the potential for bitter air to push south into the USA, which is exactly what's been happening this month. When will we crawl out of this cold rut?
AO Prediction
. NOAA shows the Arctic Oscillation becoming (less) negative in the next 10 days, which should mean stronger west to east jet stream winds and a gradual moderation in temperatures. Yes, 40s will be a dream come true huh?
Latest from
Alerts Broadcaster
:
* As we predicted Saturday, the probability of significant snow in New York City remains low -
the most reliable weather models show temperatures 1-2 F. too warm for a major snowfall in the city
. It'll be a close call, but there's simply too much warm air for a big pile of slush.
* A cold rain spreads into New York City tomorrow, possibly ending as a little slush in the suburbs Monday evening - but air temperatures above 32 F. should keep most roads wet. The brunt of the storm's precipitation/winds should pass just south/east of NYC tomorrow and Monday night.
* Some models print out as much as 4-6" of slushy snow for south Jersey, but I suspect the heaviest snows will remain over western and central Pennsylvania, western Maryland, and the hills of western Virginia and West Virginia. Philadelphia may pick up 1" of slush, maybe a couple inches of snow for the western suburbs of Washington D.C.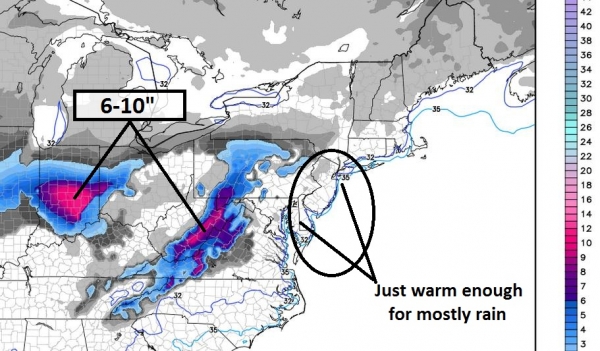 Predicted Snowfall
. Some of the U.S. weather models print out 1-3" snow for New York City, with some 6"+ amounts for southern New Jersey and the Delaware Valley. I'm skeptical, because the ECMWF (European), the model that performed best for Sandy last year and the slush-storm in early March shows just enough warm air in the lowest mile of the atmosphere for mostly rain from New York City to Philadelphia and Washington D.C. Wet snow may mix in by late afternoon or evening tomorrow, but with surface temperatures just above 32 F. snow will be slow to accumulate, especially east of I-95. As much as 10" of snow may pile up over western Virginia and the Indianapolis area.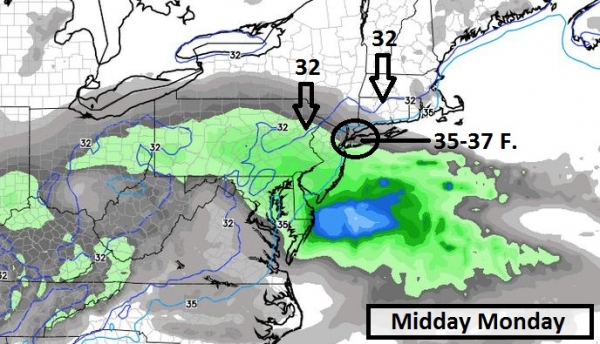 On Edge
. The forecast is rarely black or white, but usually some nebulous shade of gray. So it goes with tomorrow's coastal storm. The map above shows precipitation and surface temperatures at 1 pm tomorrow, the heaviest (rain) pushing off the Delmarva coast, with a cold rain spreading into the boroughs of New York City. Air temperatures in NYC should be in the mid to upper 30s, a couple degrees too warm for all snow. The 32 F. temperature line (isotherm) extends from near Hartford to Scranton.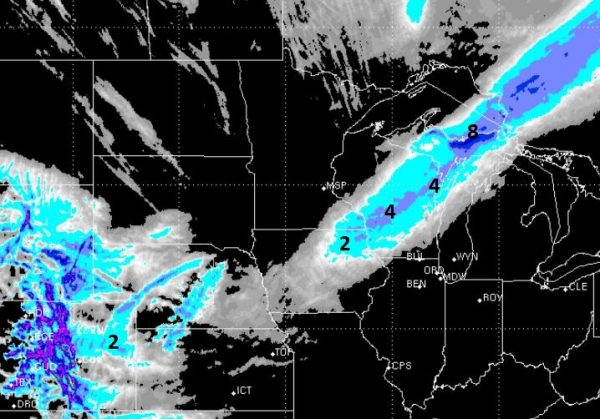 Continuity
. We look for agreement between the (scores) of weather models from run to run, with a slight bias toward the European model, which consistently outperforms the U.S. simulations. Unlike NOAA, which runs scores of models, the Europeans focus their time, money and computational resources on one model, the ECMWF, and they can initialize the models with new data as it becomes available - the rough equivalent of fueling a 747 in flight. The model above is the 12km. RPM model, which also shows a lack of significant snow for New York City and New Jersey, a plowable couple of inches from Harrisburg and York into the western suburbs of Baltimore and Washington D.C. I'm not convinced D.C. will see heavy snow from tomorrow's system, but my confidence level is high that western Virginia, western Maryland and West Virginia will get plastered with slushy snow, capable of sparking sporadic power outages and impacting facilities.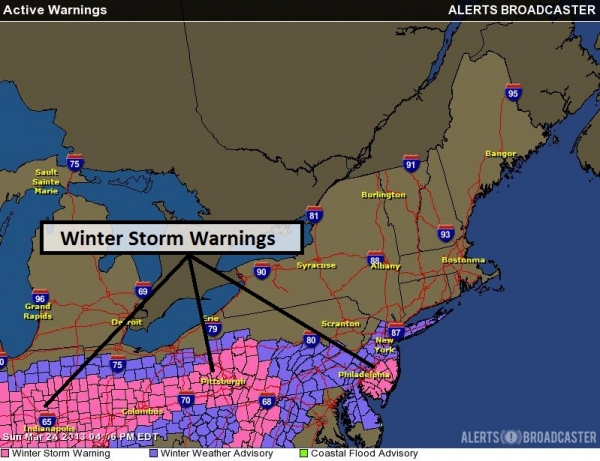 Latest Advisories
. NOAA has issued a Winter Weather Advisory for the New York City area (including Long Island) with Winter Storm Warnings for south Jersey and the Pittsburgh area. Western Pennsylvania will see enough snow to shovel and plow, but I'm not convinced the Delaware Valley and south Jersey will see heavy snow. Worst case: 1-2" slush for New York City's suburbs at the tail-end of the storm Monday evening, with 2-4" for Atlantic City.
Summary
: Full disclosure. This is a tricky forecast, with New York City, New Jersey and Philadelphia right on the rain-snow line. A degree or two makes a big difference in a scenario like this. Odds still favor mostly rain, and even if a changeover to wet snow takes place PM hours tomorrow ground temperatures above 32 F should ensure mostly wet roads. Some slushy accumulation is possible on lawns and fields, especially south Jersey, but
this storm will not rival the major systems that came thru in February and early March
. Significant rain for coastal areas, coupled with strong winds (20-35 mph), will result in slow commutes and possible delays at area airports tomorrow. Conditions improve rapidly Tuesday as this storm sails out to sea. No, spring can't come soon enough this year.
Sandy Set To Be 3rd Costliest Hurricane, But Storms Of The Past Offer Perspective
. Let's pray we don't have a 1926/Miami-size hurricane again anytime soon. Some timely numbers and perspective from
PropertyCasualty360
: "
Superstorm Sandy will likely become the third-costliest hurricane in U.S. insurance history, but when examining historical storms using today's dollars and exposures, Sandy would fall to the 12th costliest storm, says the Insurance Information Institute. In a presentation posted on I.I.I.'s website, initially given at Midwestern Actuarial Forum in Chicago today, I.I.I. Chief Economist Steve Weisbart projected Sandy insured losses to hit $20 billion, based on estimates of catastrophe-modeling firms and reported losses as of Jan. 12. That would place Sandy behind 1992's Hurricane Andrew ($25.6 billion in insured losses) and ahead of 2008's Hurricane Ike ($13.4 billion). All of those storms are dwarfed by 2005's Katrina ($48.8 billion)
..."
Graphic above
(adjusted for inflation) courtesy of Karen Clark & Co.
Why Music Helps You Exercise Better
. This article at
Lifehacker
caught my eye yesterday; here's a snippet: "...
Music distracts people from pain and fatigue, elevates mood, increases endurance, reduces perceived effort and may even promote metabolic efficiency. When listening to music, people run farther, bike longer and swim faster than usual-often without realizing it. In a 2012 review of the research, Costas Karageorghis of Brunel University in London, one of the world's leading experts on the psychology of exercise music, wrote that one could think of music as "a type of legal performance-enhancing drug.
.."
We Now Live In A World Where More People Have Mobile Phones Than Clean Water
. This headline made me do a triple-take; here's an excerpt from
Quartz
: "
It is World Water Day, and time for the United Nations to remind us how many people in developing countries still lack basic sanitation. Surprisingly, the
UN reports
there are now more people with mobile phones (six billion for world population of seven billion) on earth than there are with access to clean toilets (4.5 billion). That phenomenon is easily visible in Indonesia, for example, where it is common to see people who live in metal roofed shacks without bathrooms surfing Facebook on their smartphones or
feature phones
. And it shows how, in the developing world, multinationals are often better at responding to peoples' needs than governments are
..."
Bucket List.
My wife and I just returned from New Zealand, where we hosted a tour. Imagine a mash-up of Hawaii, Switzerland and England (with no chain stores). It's an amazing country; a little tough to get to - 14 hours from L.A. to Auckland, but worth the effort. The photo above was taken from our hotel in Queenstown, on the Southern Island, which has mountains, majestic lakes and fiords (like Norway). I'm starting to sound like a travel agent. Sorry. Here's the thing. I have a lot of older friends and family members who waited until their golden years to travel and do all the things they wanted to do together - only to be confronted with serious health issues that made travel impossible. So we've decided to take a few time-outs and see as much of the world as we can now. The best part of experiencing other countries and seeing how the rest of the world lives? Coming back to Minnesota. Yeah, even this month.
* thanks to meteorologist Todd Nelson for doing a great job on the Star Tribune print and blog while I was away.
Climate Stories....
Life After Oil And Gas.
Canada gets a majority of its electricity from renewable energy sources (mostly hydroelectric). So does Norway. Here's an excerpt of an article at
The New York Times
: "
WE will need fossil fuels like oil and gas for the foreseeable future.
So there's really little choice (sigh). We have to press ahead with fracking for natural gas. We must approve the Keystone XL pipeline to get Canadian oil. This mantra, repeated on TV ads and in political debates, is punctuated with a tinge of inevitability and regret. But, increasingly, scientific research and the experience of other countries should prompt us to ask: To what extent will we really "need" fossil fuel in the years to come? To what extent is it a choice? As renewable energy gets cheaper and machines and buildings become more energy efficient, a number of countries that two decades ago ran on a fuel mix much like America's are successfully dialing down their fossil fuel habits. Thirteen countries got more than 30 percent of their electricity from renewable energy in 2011, according to the Paris-based International Energy Agency, and many are aiming still higher.
.."
Ice Breaking News: This Is Your 2013 Arctic Freezing Season On Crack
. Here's a snippet of a story from Arctic Sea Ice Blog and
ThinkProgress
: "
The sea ice cap on top of the Arctic Ocean is often imagined to be a monolithic, continuous sheet of ice floating on water. A closer look quickly shows it is rather a collection of larger and smaller pieces of sea ice. Of course, we have all seen the
images
of ice floes separated by open water during summer, but even during winter the ice pack gets fractured, leading to leads that quickly freeze over again
..."
Graphic credit
above: "
Image of massive Arctic sea ice cracks showing temperature of the ice and the cracks between floes
." Via
Arctic Sea Ice
blog.
U.N. Chief Warns That Nearly Half The World Could Face A Scarcity Of Water By 2030
. Here's an excerpt from
The Washington Post
: "
Secretary-General Ban Ki-moon is warning that by 2030 nearly half the world's population could be facing a scarcity of water, with demand outstripping supply by 40 percent. Ban said one in three people already live in a country with moderate to high water stress. He spoke Friday at a U.N. event marking the opening of the International Year of Water Cooperation 2013 and the 20th anniversary of the proclamation of World Water Day
..."
Climate Changes Before I Retire
. This Op-Ed in the
Vancouver Observer
resonated with me - here's an excerpt: "
There's not a lot about climate change and its effects that horrifies me anymore. I guess you could say that I'm desensitised to it – melting permafrost? Yeah, I've read about it. Losing the Great Barrier Reef in Australia? Going to visit it before it's all gone, but yeah, we'll lose that too. A friend is buying a house? I'm cracking the jokes about how high above sea level it is and whether we'll need to fortify it for the 'end of the world'. Most of the research that is coming out now looking at climate models and the potential feedbacks we may get from complex climate systems are thinking we may have
underestimated
how fast climate change is going to kick us in the ass. If we're lucky, and none of the non-linear feedbacks kick in too fast, we're looking at experiencing between 1-3 C of global warming by 2050, and it's likely those estimates will be
conservative
.
.."
Graphic credit
above: "
Warming projections to 2080 from
Rowlands et al.
in Nature Geoscience 5, 256-260 (2012)
."
Geoengineering Is A Dangerous Solution To Climate Change
. I have my doubts that there's a simple "fix" to counterbalance the trillions of tons of warming greenhouse gases we've pumped into the atmosphere. Should we keep an open mind? Absolutely. Is it going to be easy? I doubt it. Here's an excerpt of an Op-Ed at
Huffington Post
: "
As the realities of global climate change become ever more alarming, advocates of technological approaches to "geoengineer" the planet's climate are gaining a following. But the technologies that are promoted -- from spraying sulphate particles into the stratosphere, to dumping iron particles into the ocean, to stimulate carbon absorbing plankton, to burning millions of trees and burying the char in soils -- are all fraught with clear and obvious risks, and are most likely only going to make matters worse. Yet zeal for these approaches continues unabated. According to right-wing think tank
American Enterprise Institute
, geoengineering offers:
"...the marriage of capitalism and climate remediation...What if corporations shoulder more costs and lead the technological charge, all for a huge potential payoff?...Let's hope we are unleashing enlightened capitalist forces that just might drive the kind of technological innovation necessary to genuinely tackle climate change."


What Zombie Films Tell Us About Climate Change: There's No One Happy Ending
. What does climate change (and the notion of a 'safe' 2 degree C. warming limit) have to do with zombies? Here's a segment of an interesting Op-Ed at
The Guardian
: "...
Stories generally have three elements; a thesis (the existing order), the anti-thesis (the thing that threatens to disturb that order) and the synthesis (the new order that emerges after the threat has been dealt with). That is what gives a story its narrative arc and tension. The great thing about proper zombie films is that they play havoc with this structure. There is a thesis and an anti-thesis but no synthesis. The zombies are never destroyed and no new stable order emerges. And that, I fear, may be the truth of the climate change story
...."
Photo credit
above: "
In zombie movies such as Dawn of the Dead, 'zombies are never destroyed and no new stable order emerges. And that, I fear, may be the truth of the climate change story
'. Photograph: Ronald Grant Archive.