July Wind Chill (doing a calendar double-take)
Here's a horrific bit of weather trivia: July is the only month where snow hasn't been reported at an official Minnesota reporting station. The city elders don't like to share that fun nugget.
Roger Kormendy from Prior Lake writes "So for a few days our weather is being influenced by "Canadian Air" as meteorologists around here and probably across the country refer to. My question is, do Canadian meteorologists refer to air invading from the south as "American Air"? Great question. We could use some lukewarm American Air right now.
Forget about glancing blows of fresh air. We're talking CANADIAN OCCUPATION here; a "cut-off" low - a swirl of unusually chilly air breaking off from the main belt of westerlies. Typical for October, but late July? Not so much. I'm predicting a few 30s tonight up in Tower & Embarrass, the Twin Towns of Cold.
After a brisk, bracing, invigorating start (buying any of this weather-spin?) clouds build this afternoon. A stiff wind means only the brave & foolish will be in the water. Sunday looks sunnier; a notch milder. You'll only need 2 T-shirts instead of 4. Deep breaths.
80s return the latter half of next week - but not a 90 in sight.
30s Sunday Morning Minnesota Arrowhead. If skies clear and winds ease a bit temperatures will drop into the 30s over Minnesota's Arrowhead late tonight, maybe mid-30s Embarrass and Tower. Map above: NOAA.
Warming Trend Next Week. No worries - think of this as a mid-summer intermission from heat and humidity. Although no searing heat is brewing anytime soon we will see a rerun of 80s by the middle of next week. The best chance of showers and T-storms: Tuesday, again Friday of next week.
Short-Term Chill; Longer-Term Warm Bias?
In spite of the chill outside your window today some of the longer range models are showing a warm bias for autumn, continuing the recent trend of (milder) falls across Minnesota and the Upper Midwest. In today's edition of
Climate Matters
we update Dorian, Flossie (which sounds like a bunny rabbit), and the implications of a buckling of the jet stream into a very strange, almost unheard-of July "cut-off" low.
Obama Signs Disaster Declaration For Counties Hit By Solstice Storm
.
City Pages
has the details; here's an excerpt: "
Last week, both members of congress -- along with Gov. Mark Dayton, Sens. Amy Klobuchar and Al Franken, and four other U.S. reps --
asked President Barack Obama
to issue a disaster declaration for the 18 counties in Minnesota hardest-hit by the solstice storms. Yesterday, he did. The presidential signature means that now, the feds can step in with more funds to help clean-up and rebuild infrastructure and public property. Preliminary assessments peg the tab for recovery at $17.8 million, a good $10 million
higher than initial estimates
..."
Photo credit
:
Herbert Stellner III
Unusual Tornado On July 22
. I thought this was especially interesting, an excerpt of Dr. Mark Seeley's always-excellent
WeatherTalk Newsletter
: "
The NOAA-National Weather Service Grand Forks Office reported on an unusual tornado earlier this week that struck between Mahnomen and Zerkel (Mahnomen County). This storm was unusual in several aspects: firstly it struck between 1:50 AM and 2:30 AM on July 22nd (Monday), a very rare time of day for tornadoes in our region (less than 2 percent of all tornadoes occur at that time of day); second, wind speeds were estimated to range from 110-120 mph (EF-2 strength), unusually strong for an overnight storm; thirdly, the storm path was nearly 18 miles in length (though intermittently on the ground), a relatively long storm path for an overnight storm. Thankfully this tornado did not cause any deaths or injuries, but it did damage a home, a number of farm structures, along with some farm equipment. It also caused a good deal of tree damage, especially around Roy Lake. This was the 6th confirmed tornado of the year so far in Minnesota. You can read more about the 2013 tornado season in Minnesota at the MN State Climatology Office web site
.....
http://www.climate.umn.edu/doc/journal/Tornado2013.htm
Map above
:
SPC
reports only 6 tornadoes in Minnesota so far in 2013.
Thought For The Day...
"So for a few days, our weather is being influenced by "Canadian Air" as meteorologists around here and probably across the country refer to it as. My question is, do Canadian meteorologists refer to air invading from the south as "American Air"?
Roger Kormendy
Prior Lake
It's 90 Degrees In Siberia And People Are Sunbathing
. Even more incredible, there's a publication called the "Siberian Times". Who knew?
The Atlantic Wire
has more details
: "Your mental image of Siberia is probably a snowy, wind-whipped expanse, perhaps with a cluster of buildings to house those banished from Russian society. Not this week. This week, Norilsk, the northernmost large city in the world, the second largest city north of the Arctic Circle, and the site of one of those gulags, hit a balmy 32 degrees Celsius — about 90 Fahrenheit. It's normally in the mid-60s. The online outlet The Siberian Times ("up-to-date information in English from across Siberia's six time zones") featured a photo of people sunbathing on the shores of Lake Baikal in its
report
on what may be a new record high
..."

Here's what we're monitoring
:
*

Tropical Storm Dorian

has weakened over the last 24 hours, packing 50 mph sustained winds. It's running into drier air with increasing wind shear, preventing the storm from strengthening to hurricane status for at least the next 4-5 days as it pushes toward Cuba.
*

Tropical Storm Flossie

expected to weaken into a tropical depression before drifting over Hawaii; capable of torrential rains and significant flooding by Tuesday of next week.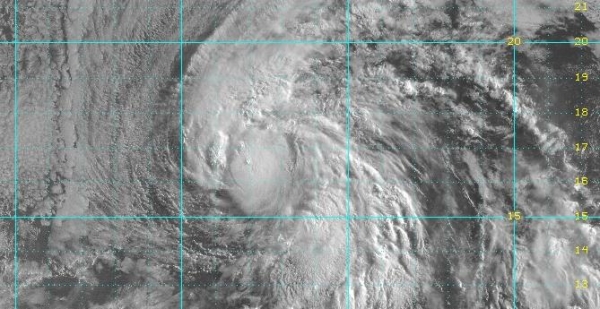 Dorian: An Unimpressive Tropical Storm
. A combination of dry air becoming entrained in its circulation and increasing wind shear is causing Dorian to weaken, a trend which is expected to continue into the weekend, in fact Dorian may lose tropical storm strength. That doesn't mean we can discount the storm altogether. Wind shear is forecast to weaken slightly as it approaches the Caribbean, and with the storm moving into an area of warmer sea surface temperatures some strengthening is still possible next week.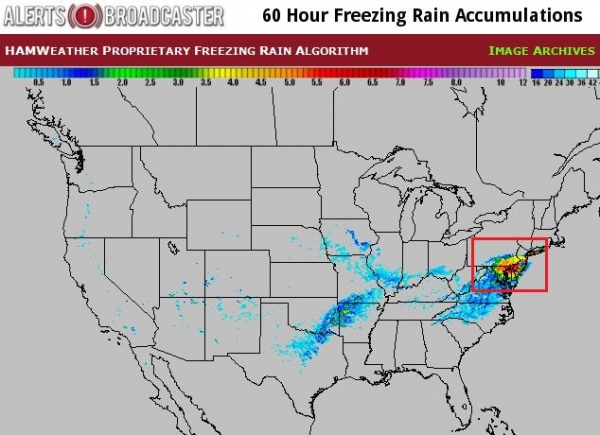 Latest Numbers
. T.S. Dorian is moving briskly toward the west-northewst, on a track which should still take the storm north of St. Martin, The U.S. Virgin Islands and Puerto Rico by Sunday. Heavy rain squalls are possible from St. John to San Juan, but the core of the storm should stay 50-150 miles north of the islands. More serious flooding is possible Monday and Tuesday as the storm brushes Haiti and the Dominican Republic.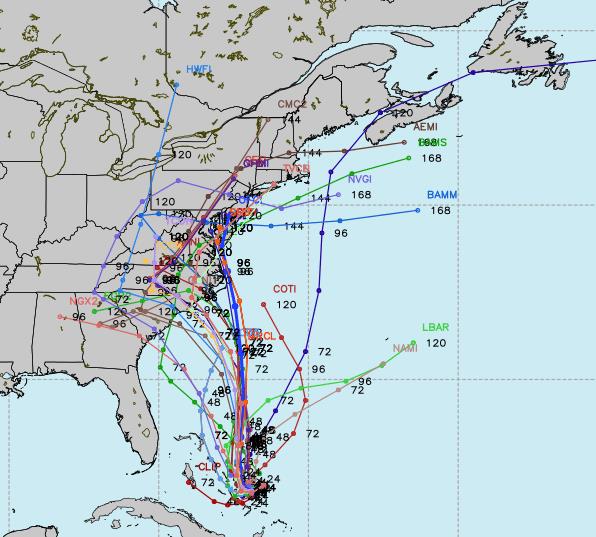 Short-Term Track: High Confidence
. The models are (amazingly) aligned, showing the track of Dorian over the next 5 days, posing the greatest risk to the southern Bahamas and Cuba in a Monday-Tuesday time frame next week.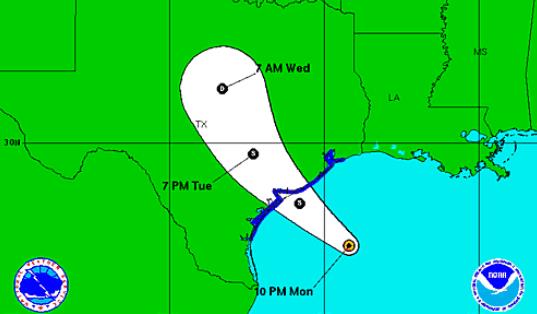 Long-Term Track: Low Confidence
. After pushing near Cuba by Monday or Tuesday, the models are (literally) all over the map with where Dorian may go next. An increasing number of solutions take Dorian into the Gulf of Mexico, which would probably be the most threatening solution for the U.S. Water temperatures are unusually warm in the Gulf, and Dorian might strengthen significantly if it takes a more southerly rouute. Just as many models veer the storm to the north, possibly soaking Florida with heavy rains the middle or end of next week before pushing out into the Atlantic. Confidence levels are still very low regarding the long-term path of Dorian, and even whether this storm poses a significant risk to facilities in the U.S.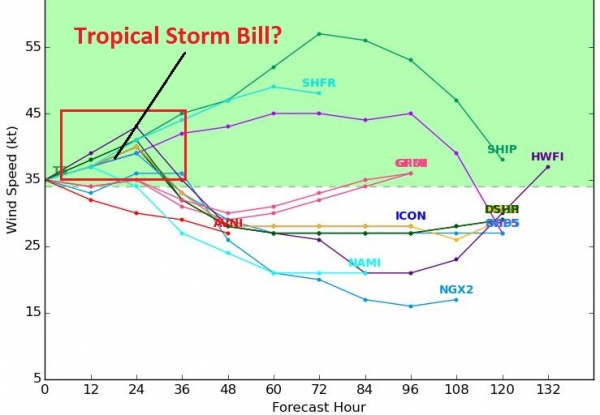 Sputtering Along
. The combination of dry air and wind shear will probably conspire to keep Dorian a modest tropical storm, at least looking out 120 hours. A few of the models even weaken Dorian to a tropical depression or tropical wave beyond 60 hours, a scenario which is very believable looking at the data.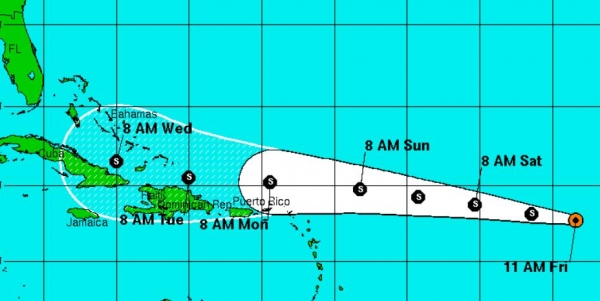 Timing Dorian
. Based on guidance from NOAA NHC Monday looks like the wettest day for Puerto Rico; minor flooding can't be ruled out, but right now this does not look like a significant/deadly storm scenario. More serious flooding is possible from The Domincan Republic to Cuba and the Bahamas by Tuesday and Wednesday of next week.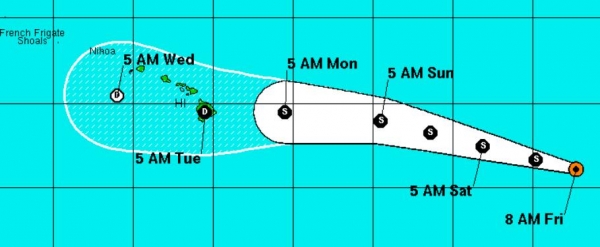 A Hawaiian Soaking
. Tropical Storm Flossie is expected to weaken as it pushes westward across the Pacific, reaching tropical depression strength before impacting the Hawaiian Islands in a Tuesday-Wednesday timeframe next week. Soaking/flooding rains and subsequent flash flooding can't be ruled out in Honolulu by the middle of next week.
Summary
: our goal is to set expectations, and although Dorian is fairly unimpressive (today) we need to continue to collectively monitor this storm, and possible implications for the U.S. Florida stands the best chance of soaking rains from Dorian by the middle of next week; a solution that brings Dorian into the Gulf of Mexico could threaten much of the Gulf Coast with a much more significant storm or possible hurricane. Again, it's too early to make a long-term determination of impacts or possible U.S. landfall at this time. Flossie will probably spark considerable flash flooding over Hawaii by Tuesday-Wednesday of next week. I'm tempted to get on a plane and personally coordinate preparation efforts on Waikiki Beach, but - alas - there's a high probability that won't happen. I'll keep you in the loop with updates - hopefully Dorian's long-term track will emerge from the meteorological noise within the next 48-72 hours.
Ex-WCCO Anchor Don Shelby Mulling A Run For Congress
. Hot Dish Politics at
The Star Tribune
has the story - here's an excerpt: "
Former WCCO news anchor Don Shelby is reportedly mulling a run against three-term Republican Rep. Erik Paulsen next year, potentially putting in play a suburban
Minneapolis
congressional district that has been in Republican hands for decades. Shelby's interest burst into the open amid remarks by U.S. Rep. Collin Peterson, D-Minn., who mentioned it at a Washington fundraiser Wednesday attended by about 30 or 40 campaign contributors, lobbyists and Democratic activists. Peterson's account of Shelby's interest was confirmed by two prominent Minnesota lobbyists who were at the luncheon. Both said Peterson described Shelby's long career in Minnesota broadcast journalism
...."
Drinking Coffee May Reduce Risk Of Suicide In Adults
. Another eyebrow-raising article; here's an excerpt from The
Harvard School of Public Health
: "
Drinking several cups of coffee daily appears to reduce the risk of suicide in men and women by about 50%, according to a new study by Harvard School of Public Health (HSPH) researchers. The
study
was published online July 2, 2013, in The World Journal of Biological Psychiatry. "Unlike previous investigations, we were able to assess association of consumption of caffeinated and non-caffeinated beverages, and we identify caffeine as the most likely candidate of any putative protective effect of coffee," said lead researcher
Michel Lucas
, research fellow in the Department of Nutrition at HSPH
..."
Cancer Risk Increases With Height
. Here's a clip from the "Well" blog at
The New York Times
: "
A woman's cancer risk appears to increase with her height, a new study shows. An analysis of 20,928 postmenopausal women showed that the taller a woman is, the greater her risk for a number of cancers, including breast, colon and skin cancer, among others.
The finding
, published in Cancer Epidemiology, Biomarkers & Prevention, is not expected to change screening recommendations and shouldn't alarm those with a tall stature. Instead, say scientists, the association between height and cancer may help guide researchers to study hormones and growth factors that influence height and may also play a role in cancer.
.."
A Year Of Sky On Earth
. This is a great Vimeo video, courtesty of
NASA's Astronomy Picture Of The Day
; here's a description: "
Each panel shows one day. With 360 movie panels, the sky over (almost) an entire year is shown in time lapse format
as recorded
by a video camera on the roof of the
Exploratorium
museum in
San Francisco
,
California
. The camera recorded an image every 10 seconds from before
sunrise
to after
sunset
and from mid-2009 to mid-2010. A time stamp showing the local time of day is provided on the lower right.
The videos
are arranged chronologically, with July 28 shown on the upper left, and January 1 located about about half way down. Although every day lasts 24 hours,
daylight lasts longest
in the northern hemisphere in June and the surrounding summer months, a fact which can be seen here as the bottom (and soon top) videos are the first to light up with dawn
..."
Which U.S. City Has The Worst Drivers?
O.K. Boston would get my vote, and I've heard some crazy stories from my father about driving in Detroit (at least in a German-built vehicle). The answer didn't surprise me too much, come to think of it.
Slate
has the cautionary tale - here's an excerpt : "...
Still, the Allstate report is both a useful indicator and a good way to winnow down the candidates. We can safely assume that the city with the worst drivers is somewhere in Allstate's bottom 50. Phoenix, Indianapolis, and Denver, therefore, are off the hook, along with a raft of others. One notable escapee is San Diego, the city with the
most drunk driving arrests
. Let's also ignore cities with populations below 150,000, because data on those places is limited. Plus, few people have ever said, "Hayward, California has the worst drivers!" We'll add Boston back into the mix, based on opinion surveys. (You're not getting off that easy, Boston.) That leaves 39 candidates.
.."
Graphic credit
:
Alex Eben Meyer.
"Quickboat" Foldable Boat: From Roof Rack To Water In 60 Seconds
. If towing a boat is just too much trouble, now you can unfold one? I'm almost afraid to see what comes next. Gizmag.com has the details: "
Think it takes more time to build a boat than make a French omelette? Think again. The Quickboat is the first foldable boat we've seen that a team of two can put together in a minute or less. That's insanely fast compared to the build times of other foldable boats we've covered, such as the
Transporter
(10 minutes) and the
Smartkat
(20 minutes). In fact, the boat is so easy to construct says Deryck Graham, the Managing Director of Australian company Quickboats, that one person with a beer in hand could assemble the boat in three minutes even with friends around to distract them
..."
Meteorologists Reporting Sky Just A Little Bit Bluer Today, And It's Because Minneapolis Resident Doug Bramowski's In Love
. A headline like this could only come from one authoritative source:
The Onion
. Details: "
The National Weather Service is reporting that the clouds over Minneapolis have parted, the sun is shining, and the sky is just a little bluer today—and it's all because 38-year-old Doug Bramowski is in love, folks. NWS meteorologists predict that since Bramowski's head over heels for Abby Feldman and, by golly, she's crazy about him, too, Twin Cities residents will be enjoying particularly beautiful weather this weekend with highs in the mid-to-upper 70s, unusually low humidity, and crystal-clear skies as far as the eye can see
..."
Photo credit above: "With low humidity and blue skies for miles, meteorologists say ol' Dougie Boy is most definitely in love, and it's for real."
Climate Stories...
Global Warming And The Future Of Storms
.
The Guardian
has the story, co-authored by St. Thomas climate scientist John Abraham. Here's an excerpt: "...
I asked Dr. Emanuel to summarize the present understanding of hurricanes, and he responded with the following insights:
• The incidence of high-intensity tropical cyclones (Safir-Simpson categories 3-5) should increase, and the amount of rainfall in these storms should increase, upping the potential for freshwater flooding. These changes will not necessarily occur where tropical cyclones develop and thrive today. "Indeed," wrote Emanuel, "it is likely that there will be decreasing activity in some places, and increasing activity in others; models do not agree on such regional changes."
• Though experts disagree on this point, Emanuel's work suggests that weak events (tropical storms and Cat 1-2 storms) will become more frequent.
• "Very little work has been done on the problem of storm size," wrote Emanuel, "what little research has been done suggests that storm diameters may increase with global temperature. This can have a profound influence on storm surges, which are the biggest killers in tropical cyclone disasters
..."
Photo credit
:
Desert Storm: Battle Brews Over Obama Renewable Energy Plan
.
National Geographic Daily News
has the story; here's the introduction: "
America's deserts are stark, quiet places, where isolation and the elements have long kept development at bay. To outsiders, these arid expanses may not seem like prized land. But they are poised to play a key role—and perhaps, to serve as a battleground—in President Obama's plan to
double U.S. electricity from wind, solar, and geothermal sources
by 2020. To help ramp up that amount of clean energy, the White House has urged approval of an additional 10,000 megawatts of renewable energy production on public lands. Estimates vary on exactly how many households would be served by the expansion, but
the Obama Administration says
the 25 utility-scale solar facilities, nine wind farms, and 11 geothermal plants it has approved on federal lands so far will provide enough juice to power 4.4 million homes. One thing is for certain: The new drive for large-scale solar will require land
..."
Photo credit
above: "
Joshua Tree National Park soon will share its California desert skies with a new close neighbor, a huge solar farm. It's part of a big renewable energy drive on public land
." Photograph by Bill Hatcher, National Geographic.
Fossil Fuels To Dominate World Energy Use Through 2040
. Meteorologist Andrew Freedman has the story at
Climate Central
; here's an excerpt: "
Global energy consumption will grow by 56 percent by 2040 with fossil fuels remaining dominant energy sources. Along with that growth will come increased carbon dioxide emissions and a continued reliance on coal, oil, and natural gas for transportation and electricity generation, according to a new report published Thursday by the
Energy Information Administration
(EIA). The
International Energy Outlook
, which is released every two years, shows that strong economic growth in developing countries will be the dominant force driving world energy markets during that period. "Rising prosperity in China and India is a major factor in the outlook for global energy demand. These two countries combined account for half the world's total increase in energy use through 2040," said EIA administrator Adam Sieminski in a press release. The EIA is the Department of Energy's statistical and analytical agency.
.."
The key to reducing the political and economic cloud of questionable fuel-vending nations is to reduce overall demand - and, thus, the market price and profits - for oil. While we can't take millions of conventional-fuel vehicles out of the U.S. fleet overnight, there may be cheap and effective ways to accelerate the use of alternative fuels and increase energy independence. In particular, Woolsey believes in the potential for a market for ethanol and methanol derived from U.S. natural gas. With the current price of natural gas sitting around one-fifth that of oil, developing methanol-based fuels to add them as a choice at the pump could potentially take enough demand away from oil to drive prices down to $60 per barrel or less
....
Photo credit: "A drilling rig in North Dakota near the town of Stanley. Fracking is used in this area to tap oil reserves."
Mont St. Michel Becomes An Island For The First Time Since 1879.
The story from
The Telegraph
; here's a clip: "
Hundreds of people gathered to watch the event on Wednesday evening, which only lasted about 20 minutes, as the English Channel entirely surrounded the Unesco world heritage site. "For the first time in a long time we will see the sea surround the Mont," Laurent Beauvais, president of the Basse-Normandie region, told Le Figaro. "It's rare and we're here," an unnamed couple told Le Parisienne. "We came at the right time
..."
Photo credit
above: "
."
Photo: AFP
Mohave Mirrors: World's Largest Solar Energy Ready To Shine
.
National Geographic
has the story; here's the intro: "
More than six years
in the making, the Ivanpah plant is now slated to begin generating power before summer's end. It was designed by
BrightSource Energy
to use more than 170,000 mirrors to focus sunlight onto boilers positioned atop three towers, which reach nearly 500 feet (150 meters) into the dry desert air. The reflected sunlight heats water in the boilers to make steam, which turns turbines to generate electricity—enough to power more than 140,000 homes
.."
Photo credit
above: "
The huge Ivanpah solar plant is part of a push to expand renewable energy on U.S. federal land. The developer took steps to relocate a population of the endangered desert tortoise, below
." Photograph by Jim West, Alamy
Buffet Says Coal's Decline In U.S. To Be Gradual But Permanent.
Bloomberg Businessweek
has the story; here's the introduction: "
Coal use in the U.S. will continue to fall though the slide will be gradual as electric utilities switch to cleaner alternatives over "years and years," billionaire Warren Buffett said at an event in Indiana this week. "Coal will gradually decline in importance, and of course when natural gas prices get low enough you have a big switch over," Buffett said July 22, according to a recording posted online by WFYI, a public radio station in Indianapolis. "Coal plants are producing about 38 percent of all the electricity in the United States now," Buffett said. "You can't scrap that. That takes years and years and years to replace. It will be happening gradually.
.."