Off The Rails
Mother Nature is off her meds again. I've seen a lot of things in 30 years, but I don't think I've ever witnessed frost to 100F in 58 hours. Like turning on a light switch: instant blast-furnace heat. It was 102F at St. James, but only 44F in Grand Marais. The Twin Cities broke the old record of 95F in 1932. We're taking weather whiplash to a whole new level.
An omen for another sweltering summer to come? I doubt it. Overall I'm still predicting a cooler, wetter, stormier summer for Minnesota. Last year's debilitating drought will be a dusty memory for most of the state in a few weeks.
Last summer saw 31 days above 90F; I expect closer to 10-15 this year. But every now and then we'll see a sudden (breath-taking) heat spike, like yesterday.
We cool off a bit today - pleasant skies into Thursday before the next volatile warm front arrives with showers and T-storms Friday & Saturday. We may have enough low-level moisture (60-degree dew points) and wind shear for the first severe outbreak of 2013. Showers spill over into Sunday; another sharp cooling trend early next week.
In fact it may snow on Tuesday over the Minnesota Arrowhead.
Your choices this year? 100F or slushy snow.
Amazing.
Light Switch Summer Heat
. 12 days ago (May 3) Blooming Prairie set a Minnesota state record with 18" snow in May. Insert exclamation point here (!) Yesterday: 100-degree heat. What a month. I was in Mankato for a speech, where the high hit a sizzling 99. South St. Paul hit 99, with a record 98 at Twin Cities International Airport, a desert-like 102 at St. James. Amazing.
Closer To Normal.
We welcome a breath of cooler, cleaner Canadian air today, pleasant (dry) weather lingering into Thursday. A few T-showers return by Friday; temperatures may top 80 Saturday with a few strong to severe T-storms. Right now Sunday appears to be the wetter day of the weekend, based on ECMWF guidance.
Looks Like A Weekend
. Umbrellas optional for the next 36-48 hours; the best chance of puddles Sunday. The drought continues to ease. Some 1"+ rainfall amounts are possible this weekend. Graphic: Iowa State.
Weekend Severe Threat
. There may be enough wind shear, low level moisture (and boundaries) for strong to potentially severe thunderstorms this weekend; the best chance of hail and damaging winds south/west of the Twin Cities. Map: NOAA SPC.
More Wet Than Hot
. No signs of a heat dome setting up over the central USA, like last summer. The trend is toward a series of significant storms over the Plains, each one tapping moisture from the Gulf of Mexico, helping to ease drought conditions from Minnesota to Texas over time. Another significant storm is brewing for the weekend; heaviest rains over the Upper Midwest and Great Lakes. GFS loop: NOAA.
Minnesota Lakes Contaminated With All Kinds of Chemicals
. Out of 50 Minnesota lakes studied only 3 were found to be chemical-free. Details from
The Star Tribune
: "
Man-made chemicals, from cocaine to DEET to pharmaceuticals, are finding their way into Minnesota lakes in ways that no one understands. Some 50 lakes analyzed last year by state scientists contained at least some of 125 different chemicals. DEET, the insect repellent, was the most common, found in 76 percent of them. Only three of the 50 lakes were chemical-free. Bisphenol A, from plastic, was found in nearly half and cocaine was found in a third, according to a
Minnesota Pollution Control Agency analysis
made public Monday
..."
Photo credit
: Lake Nokomis, courtesy of Tom Wallace, Star Tribune.
* The MPCA (Minnesota Pollution Control Agency) reports are
here
.
The Blob That Ate New York.
Here's an excerpt of a
Discover Magazine
blog post focusing on last week's torrential, tropical rains that triggered flooding in New York City: "
Lately, I get the impression that New York City's weather is more akin to the tropics than the Northeastern United States. And Wednesday's torrential rain, accompanied by flooding, didn't disabuse me of that idea. Much of the United States has felt the effects of a storm that lumbered slowly eastward the past week, and on Wednesday morning it reached New York. Feeding on water vapor
streaming from the tropical Atlantic
, the storm caused
lots of flooding
in the city. In an echo of Hurricane Sandy, water poured into the subway system in places
..."
Image credit
above: "
An animation of infrared images from the GOES-13 satellite shows a massive system of convective clouds approaching and then enveloping the New York area on the morning of May 8
." (Source: Cooperative Institute for Satellite Meteorological Studies.)
Tornado Activity Hits 60 Year Low
.
USA Today
has the story; here's an excerpt: "
The USA in the past 12 months has seen the fewest number of tornadoes since at least 1954, and the death tolls from the dangerous storms have dropped dramatically since 2011. Just two years after a ferocious series of tornado outbreaks killed hundreds of Americans, the USA so far this year is enjoying one of the calmest years on record for twisters. Through Thursday, tornadoes have killed only three Americans in 2013; by the end of May 2011, 543 Americans had died. The seven people killed from May 2012 to April 2013 is the fewest in a 12-month period since five people died in September 1899-August 1900, according to Harold Brooks, research meteorologist with the National Severe Storms Laboratory in Norman, Okla
..." (Photo: WGCL).
Another Twist To The Weather: Tornadoes Few, Far Between
. Here are some interesting stats, part of story at
omaha.com
: "...
The last time Iowa had a confirmed tornado was May 24, 2012. If no tornadoes occur through Wednesday, the state will surpass the record of 355 days set at the end of April 1956, he said. "To have gone this long without one is pretty extraordinary," said John Lee, meteorologist for the National Weather Service in Des Moines. Harold Brooks, research meteorologist for the National Severe Storms Laboratory, said preliminary numbers for May 2012 through April 2013 indicate that 197 tornadoes rated EF1 or stronger occurred in the United States. Lesser tornadoes weren't factored into his analysis because they cause little damage and may even have gone unnoticed in the past, so the historical record is considered suspect.
.." (Photo: FEMA).
How Sequestration Could Affect U.S. Flood Warning System
.
The PBS NewsHour
has the story; here's an excerpt: "
The government's automatic budget cuts, known as sequestration, are taking down up to 150 of the nation's stream gauges -- devices that provide life-saving flood warnings and help scientists track drought conditions. The first round of nationwide closures started this month. These streamside outbuildings shelter data-gathering equipment so it can be fed to satellites. They track temperature, stream flows and pollution levels. Stream gauges aren't getting the same sequester-cut attention as airport control towers or Head Start classrooms. But for scientists, it stings to see them swept away by spending reductions. "To lose a gauge would be like losing a member of the family, almost," said John Clemens of the U.S. Geological Survey
..."
Photo credit
above: "
This stream gauge on the Boise River is one of several hundred in Idaho. The U.S. Geological Survey is shutting down up to 150 gauges to meet spending-cut requirements known as the sequester. Photo by Aaron Kunz/Earthfix
."
From
Alerts Broadcaster
(this alert went out Tuesday morning):
Here's what we're monitoring
:
-
Cyclone Mahasen
is pushing toward coastal Bangladesh and Myanmar. Although a worst-case scenario should be avoided, coastal storm surge flooding may still result in considerable loss of life Wednesday and Thursday.
- There have been
three separate X-class solar flares
since Sunday. Activity is increasing on the sun; conditions increasingly favorable for geomagnetic storms that may disrupt communications, GPS and pose some risk to the power grid in the months ahead.
-
Two volcanoes:
one outside Mexico City is coming to life; another on Alaska's Aleutians, capable of disrupting air travel to Asia if and when it erupts.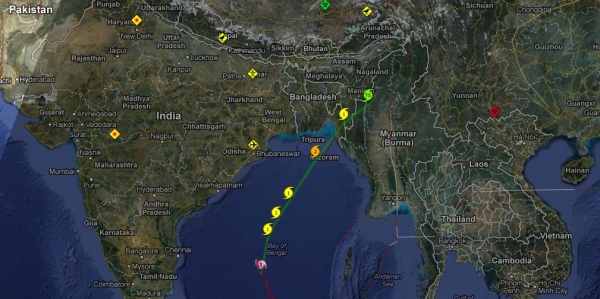 Cyclone Mahasen
. The problem: much of Bangladesh is located near sea level; there are few places where the local population can perform a safe vertical evacuation. Mahasen may strengthen (slightly) today before coming ashore in the next 36-48 hours. The main threat will be heavy (10-15") rains and a coastal storm surge from 2-7 feet. Bangladesh has deployed at least 8 army batallions - the general threat has been raised to a 4 on a scale of 1 to 6. Hundreds of thousands of people are being evacuated from low-lying areas.
Projected Track
. The Navy's Joint Typhoon Warning Center models suggest that Mahasen may be a minimal (category 1) typhoon - same thing as a hurricane, when it comes ashore on May 17 (local time), with sustained winds of 60-80 mph, capable of a 2-7 foot storm surge and inland flooding.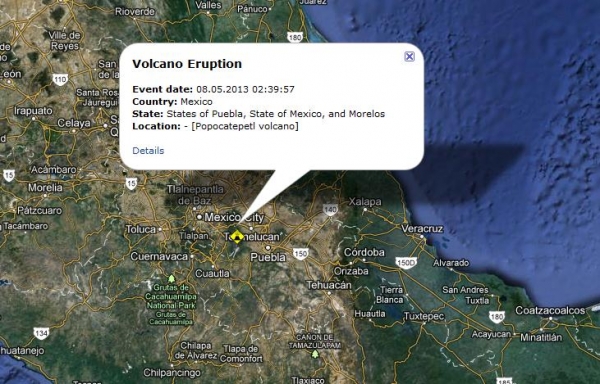 Why Residents of Mexico City Are Nervous
. The Popocatepetl Volcano is south/east of Mexico City, and it shows signs of imminent eruption. "Seismic activity has increased at the Popocatepetl volcano near Mexico City, leading authorities to alert towns in two central states and the capital. Mexico's National Disaster Prevention Center says the white-capped volcano spewed a plume of steam more than one kilometre into the sky. The volcano shook during Saturday night, sometimes emitting glowing rock over the crater. The government deployed soldiers and federal police to the area Sunday in the event of a bigger eruption, and officials closed off an 18-square-kilometre zone around the cone of the 5,450-metre volcano. State authorities prepared shelters. Popocatepetl has put out small eruptions of ash almost daily since a round of activity began in 1994. The eruptions started strengthening two weeks ago and have increased even more this weekend." Source: RSOE EDIS.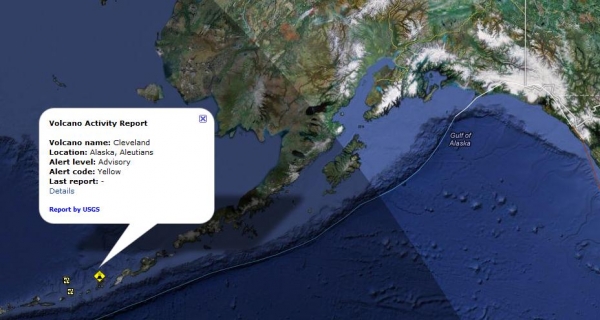 Potential Threat To Cross-Pacific Air Travel
. USGS is watching the Cleveland Volcano, which - according to local officials on the scene is "very hot" and capable of imminent eruption. It poses significant risk to cross-Pacific air travel if it does erupt in the coming days.
* More on Alaska's smoldering Cleveland Volcano from
Discover Magazine
.
Solar Activity Surges
. Tuesday evening brought the 4th X-class solar flare since Sunday. Details from
spaceweather.com
: "
A sunspot on the sun's eastern limb is crackling with powerful X-class solar flares. AR1748 announced itself during the early hours of May 13th with an X1.7-class eruption (0217 UT), quickly followed by an X2.8-class flare (1609 UT) and an X3.2-class flare (0117 UT on May 14). These are the strongest flares of the year so far, and they signal a significant increase in solar activity. NOAA forecasters estimate a 40% chance of more X-flares during the next 24 hours. All of these flares have produced strong flashes of extreme ultraviolet radiation. Here is the view of the latest eruption, which registered X3.2 on the
Richter Scale of Solar Flares
, from NASA's Solar Dynamics Observatory
:.."

Solar Jitters
. There have been three major X-class solar flares since Sunday; a much more active region of the sun's disk is rotating toward Earth. Minor radio disruptions have been reported, but no major geomagnetic storms. A G3-G5 geomagnetic storm has the potential to bring down portions of the power grid, depending on polarity/alignment of the incoming CME, or Coronal Mass Ejection. In simple English: if this burst of energy strikes us at the wrong angle it could not only disrupt communications (satellite and terrestrial), but GPS, even bring down transformers capable of massive black-outs. The 11 year solar cycle peaks later in 2013. I suspect these X-class flares were just a warning shot across the bow.
A Space Weather Primer
. We've experienced 3 separate X-class solar flares since midday Sunday. The risk of geomagnetic storms is small, but not zero, and we need to pay attention to "space weather" in the coming months. The solar cycle peaks later in 2013, but some of the most intense solar flares and CME's are often observed going into and coming out of a peak. Details from
WeatherNation TV
: "
WeatherNation Chief Meteorologist Paul Douglas goes over some of the more active space weather we saw in the past couple of days. Paul Douglas goes over CMEs and solar flares and how they can impact life on Earth
."
Weather And Arthritis Pain
. No, it's not your imagination - there is a link between changes in the weather and many people's susceptibility to arthritis pain. Cold fronts, sudden drops in temperature, can be especially painful. More details from
The Arthritis Foundation
: "
It's not your imagination; the weather can cloud your health. Here's what research reveals about the connection between weather and arthritis pain. Changes in temperature or barometric pressure, a measure that refers to the weight of the surrounding air, trigger joint pain, though researchers aren't entirely sure why. In 2007, researchers at Tufts University in Boston reported that every 10-degree drop in temperature corresponded with an incremental increase in arthritis pain. Increasing barometric pressure was also a pain trigger in the Tufts study. In fact, studies in cadavers have found that barometric pressure affects pressure inside the joints. In one experiment, when pressure in the hip joints was equated with atmospheric pressure, it threw the ball of the hip joint about one-third of an inch off track
..."
10 Hotel Secrets From Behind The Front Desk
. I did not know this. If you spend a lot of time in hotels this is one article you should check out; here's an excerpt from
Mental Floss
: "...
The term "walking a guest" sends shivers down any manager's spine. Since the average no-show rate is 10 percent daily, hotels will overbook whenever possible. The sales and reservations departments are encouraged to book the property to 110 percent capacity, in the hopes that with cancellations and no-shows they will fill every room. What happens when the numbers game doesn't play in the hotel's favor? Someone gets walked. The hotel will now pay for the entire night's room and tax (plus one phone call—how cute is that?) at another comparable hotel in the area.
A guest is more likely to get walked if:
1. He booked using Expedia, hence he has a deeply discounted rate and is less important.
2. He never stayed here before and may never visit the city again.
3. He's a one-nighter.
.."
Photo credit
: Michael Cunard.
Before Calling 911 , Check To See If Person Lying On Grass Is Dead
. Need a good laugh? Check out this excerpt of a story at
madison.com
: "
Following the zombie scare on Monday, dead people kept popping up all over Madison on Tuesday. Or, at least it seemed that way to the Dane County 911 Center. The center was overwhelmed with calls from cellphone users reporting people lying on the grass, not moving, possibly not living. Not so. Check the weather. "Please tell cellphone users that people lying in the grass are not necessarily dead," a dispatcher at the 911 center told
Madison.com
.
.."
98 F
. record high yesterday in the Twin Cities (old record was 95F in 1932).
69 F
. average high on May 14.
85 F
. high on May 14, 2012.
.
Climate Stories...

Climate Change And The Future Of The Arctic
. Here's an excerpt of an Op-Ed from Secretary of State John Kerry at
Huffington Post
: "...
Our warming planet means the Arctic's ecosystem is experiencing significant, rapid shifts with far-reaching consequences. Last September, the extent of sea ice covering the Arctic Ocean reached record lows, threatening marine mammal life and local populations dependent upon them. Receding sea ice might also bring new commerce and industry to the region, including exploration of offshore oil and gas, as well as minerals. New Arctic shipping routes could significantly decrease transit times between Pacific and Atlantic ports. All of the changes in the Arctic must change the way we approach the region. The Obama administration's new National Strategy for the Arctic Region prioritizes domestic infrastructure development as Arctic conditions change, responsible stewardship, and enhanced cooperation with our international partners. We're focused on ensuring a secure, peaceful, and prosperous Arctic
..."
Warming Eats Up Everest Ice By 13% In 50 Years
. Details from
The Times of India
; here's the intro:
"Mount Everest is shedding its frozen cloak as its glaciers have shrunk at an alarming rate of 13% over the last 50 years due to global warming, a new study has warned. Glaciers smaller than one square kilometre are disappearing the fastest and have experienced a 43% decrease in surface area since the 1960s, researchers said. The snow line has shifted upward by 180 meters, according to lead

researcher Sudeep Thakuri

, from

the University of Milan

in Italy. Because the glaciers are melting faster than they are replenished by ice and snow, they are revealing rocks and debris that were previously hidden deep under the ice. These

debris-covered sections

of the glaciers of the glaciers have increased by 17% since the 1960s, according to Thakuri. The ends of the glaciers have also retreated by an average of 400 meters since 1962, the team found..." (Image: mount-everest.net)
Shell To Develop World's Deepest Offshore Platform
.
Reuters
has the story; here's an excerpt: "
Royal Dutch/Shell said on Wednesday it will go ahead with the world's deepest offshore oil and gas production project, pushing the boundaries of technology to produce from nearly 2 miles (3.2 km) down in the Gulf of
Mexico
.

Coming three years after the Macondo oil spill disaster, Shell targets first production by 2016, demonstrating confidence in big offshore projects in spite of a downturn in oil prices.

Earlier this week, Exxon Mobil Corp flagged startup for a $4 billion project to develop the Julia oilfield, about 40 miles (64 km) west of Stones in the Gulf's deepest waters
..."
Climate Change, "Happy Plants", And False Balance
. Here's an excerpt from
Media Matters
: "
Carbon dioxide levels in the atmosphere
passed
400 parts per million (ppm) on Thursday for the first time in human history. But one thing hasn't changed: false balance still crops up in climate change stories.
False balance
occurs when journalists give equal weight to arguments from both sides, regardless of where the facts lie. Climate change is a
textbook example
of this problem -- in fact, the term was
coined
in academic papers to criticize climate coverage in the 1990s. Yet 20 years later, we still get articles like
this
from Bloomberg News, reporting on the 400 ppm milestone:
Happy Plants
"The Earth has had many-times-higher levels of CO2 in the past," said Marc Morano, former spokesman for Republican Senator
James Inhofe
and executive editor of
Climate Depot
, a blog that posts articles skeptical of climate change. "Americans should welcome the 400 parts-per-million threshold. This means that plants are going to be happy, and this means that global-warming fearmongers are going to be proven wrong
..."
What's In A Number? New Carbon Dioxide Level Unseen In Human History
. Here's an excerpt from
ABC News
: "...
What worries scientists in 2013 is not only the amount of CO2 in the atmosphere, but how fast it continues to build up without showing any sign of slowing or even stabilizing. Today's rate of carbon dioxide increase is more than 100 times faster than the increase that occurred when the last ice age ended, NOAA said today. At this rate, even 400 ppm will soon vanish in the rearview mirror. Unless emissions are slowed, scientists tell us that babies being born today will enter their thirties as the CO2 level reaches 450 ppm
..." (Image credit
here
).