Tundra Tales
Every time I want to feel sorry for myself, moaning about a bad remake of "Little House On The Prairie", I think back to the pioneers who settled Minnesota & Wisconsin in the early 1800s. How did they do it? Before indoor flush toilets, Costco, the NFL and heated car seats.
Did they complain, or were they stoic, driven by a faith & confidence that seems almost supernatural today? I'm not sure, but this time I'll keep my pie-hole shut; just grin and bear it.
Although not quite as dangerous as January 6-7, wind chill values will dip to -30F at the bus stop this morning. Make sure the kids look like well-dressed mummies as they head out the door - no exposed skin showing.
Highs struggle to top 0F today, again Thursday as a reinforcing shot of Yukon Blue swirls into town. After approaching 30F Friday another chunk of the Polar Vortex breaks off, more "waves" of thumb-numbing chill hurtling south on Saturday; with the coldest, potentially school-closing-cold front Tuesday morning, when -20F is not out of the question in the metro area.
Air temperature.
Other than that things are going well. Clippers may freshen up the snow in your yard Saturday night, again Wednesday of next week.
I'm looking forward to February. It has to get better....right?
---
Windchill Advisory Metro Area
. NOAA has issued advisories for a chill factor as cold as -30 to -34F this morning, warnings posted for much of central and west central Minnesota, where the windchill may dip to -40F or colder. Details from the
Twin Cities office
of the National Weather Service:
...VERY COLD WIND CHILLS EXPECTED TONIGHT...

ANOTHER SURGE OF FRIGID AIR WILL CONTINUE MOVING IN TONIGHT. THE
COMBINATION OF LOW TEMPERATURES AND BRISK NORTHWEST WINDS WILL
CREATE WIND CHILL VALUES BETWEEN 25 DEGREES BELOW AND 40 DEGREES
BELOW ZERO. A WIND CHILL WARNING IS IN EFFECT FOR PORTIONS OF
WESTERN MINNESOTA ALONG AND NORTH OF A LINE FROM HILLMAN TO ST.
CLOUD TO LITCHFIELD TO MONTEVIDEO TO HAYDENVILLE WHERE WIND CHILLS
ARE EXPECTED TO DROP AS LOW AS 35 TO 40 DEGREES BELOW ZERO. EAST
AND SOUTH OF THAT LINE...INCLUDING THE TWIN CITIES METRO AND WEST
CENTRAL WISCONSIN...A WIND CHILL ADVISORY IS IN EFFECT WITH WIND
CHILL VALUES AS LOW AS 25 TO 34 DEGREES BELOW ZERO.
---
Cold Enough
. It's not quite the school-closing vortex of January 6, but this morning will get your attention. Air temperatures close to -10F, coupled with a wind of 15 mph will create a chill factor dipping to -30F at times. Frostbite on unprotected skin is possible within 5 minutes under these conditions. Obey the "no-skin-showing" rule, something I've put into effect (yearround) for roughly the last 20 years now. 2-meter NAM predicted temperature for 6 AM courtesy of NOAA and
Ham Weather
.
---
The Floodgates Open Once More.
My sister sent me a photo of crocus blooming west of Philadelphia yesterday. It's been in the 50s and 60s across the Mid Atlantic region in recent days, so this latest blast will come as a rude awakening. The solid green line marks the 0F isotherm, the red line marks 32-degree temperatures. 84-hour temperature prediction courtesy of NOAA and Ham Weather.
---
Job Security For Travel Agents
. Or kayak.com. Personally I like expedia.com, but let's not get distracted from the matter at hand. Temperatures struggle just to reach 0F in the Twin Cities today, again Thursday, probably Monday and Tuesday of next week as well, based on ECMWF guidance (which I think is still running about 5F too cold). The coldest morning may be next Tuesday morning, when air temperatures bottom out around -15 to -18F in the metro area. Something to look forward to. Highs blip into the 20s to low 30s for a portion of Friday and Saturday before another Big Dip early next week. Graphic: Weatherspark.
---
A Locked Upper Level Pattern.
This is the same pattern we've been enjoying/enduring since early December, a vast, semi-permanent ridge of high pressure treating the west to record warmth, brush fires and a deepening drought, while polar air circulates around a nearly stationary upper level low over eastern Canada, keeping much of the eastern 2/3rds of America in the meat locker. The forecast above from
NOAA NCEP
shows prevailing jet stream winds between January 26-30.
---
Son of Polar Vortex
. Another hunk of air that was minding it's business up over the North Pole about a week ago will surge south early next week, hopefully the last blast in this latest series. Time will tell. Monday morning 7 AM temperatures above courtesy of The Climate Reanalyzer.
---
A Good Winter To Be A Minnesota Snow Lover
. With about 13" snow on the ground in the Twin Cities, I'm not hearing the usual complaints from snowmobilers, cross country skiers (and snow plow operators). Business is good. There's a good 16-28" over much of central Minnesota, even more along the North Shore of Lake Superior. Map:
NOAA
.
---
Alerts Broadcaster Briefing
: Issued Monday afternoon, January 20, 2014.
* Significant "plowable" snowfall now appears likely from Roanoke, Richmond and Washington D.C. area to Delaware Valley, much of New Jersey, metro New York City, coastal Connecticut into Providence, the Cape and Boston area, developing late morning Tuesday (Virginia) and not tapering off in Boston until Wednesday afternoon.
* I'm most concerned about Washington D.C., where the forecast of "flurries" is enough to send locals into a panic. Models suggest 3-6" for D.C., possibly 8" for a few suburbs, enough to shut the city (and airports) down from Tuesday afternoon into Tuesday night. Conditions should gradually improve during the day Wednesday.
* New York City will be on the northern edge of the heaviest snow bands, Long Island stands a good chance of some 5-10" amounts with significant blowing and drifting from the PM hours Tuesday into Wednesday morning. Manhattan could easily pick up 6" from this system, maybe 8" in a few spots. This will be a cold snow, powdery, more prone to blowing and drifting. Keep in mind that chemicals put down by road crews don't work effectively at surface temperatures colder than 15-18F, so I expect massive travel problems all up and down the I-95 corridor tomorrow into at least midday Wednesday. Is this an inappropriate time to wish you a Happy New Year...? I'm just the messenger. This too shall pass.
---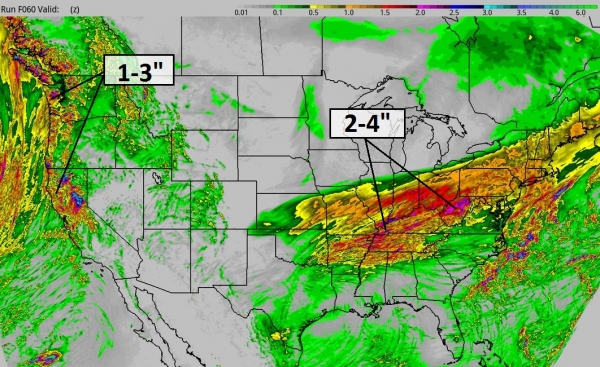 Watches and Warnings
. NOAA has issued Winter Storm Warnings for much of the Virginias and Maryland, meaning treacherous winter travel is imminent. A Winter Storm Watch is posted from Wilmington, Harrisburg and the Delaware Valley into New Jersey, New York City, Providence and Cape Cod, but I have a (very) strong hunch this will be upgraded to a Winter Storm Warning by tonight, as confidence levels grow. Map: NOAA and Ham Weather.
---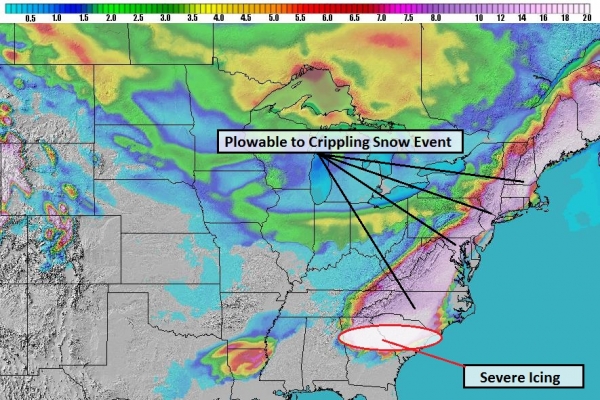 Storm Overview.
The leading edge of the next polar vortex, although not as extreme as early January, will spin up a significant storm, one that will draw on unusually warm Gulf Stream waters just offshore, spinning up a significant Nor'easter. Although the heaviest precipitation bands will remain just offshore, there will be an 8-14 hour "burst" of moderate snow from the Virginias and Maryland to Long Island and Cape Cod, with temperatures falling through the 20s into the teens I don't see any risk of rain or ice. This will be snow event, enough to shovel and plow and snarl commutes (land and air) for 50 million Americans Tuesday into Wednesday. Source: NOAA's 12km NAM model and Ham Weather.
---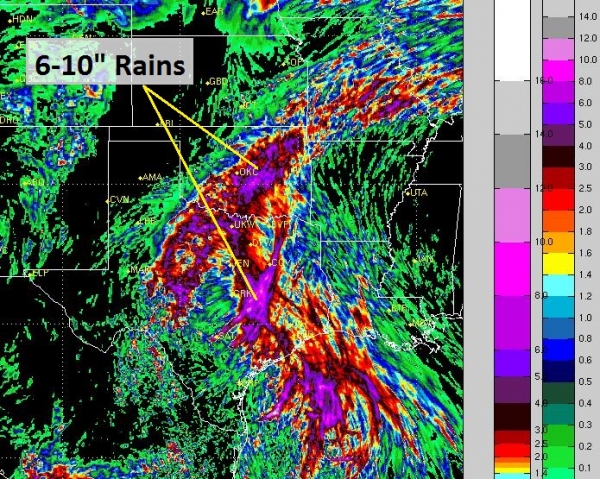 Another Solution.
I believe the (RPM) model above has the right idea, but the amounts printed out may be on the light side. More recent guidance suggests as much as 6-8" from D.C. to New York, closer to 8-10" for Boston. The closer you are the coast, the heavier the snowfall amounts will be by Wednesday morning. Timing: Tuesday into Tuesday night from D.C. to Philly and New York, Tuesday night into Wednesday for Providence and Boston. Source:
WSI Corporation
.
---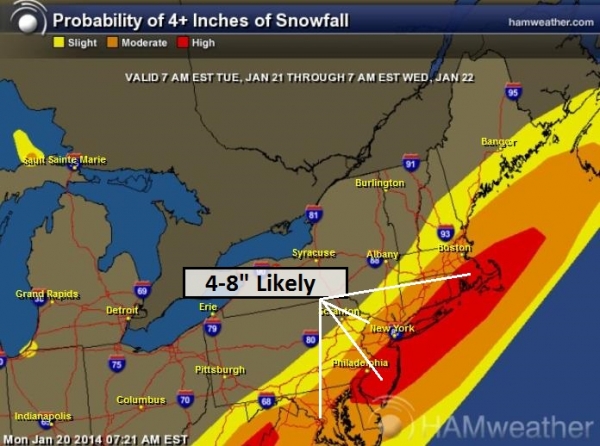 Pinpointing Plowable Snow Bands
. Our internal models show a high probability of 4"+ snows from Roanoake, Richmond and D.C. into much of the Delaware Valley, New Jersey, New York City (and Long Island - where amounts may be even heavier) to Groton, Providence, Hyannis and Boston.
Summary
: We've all been through this drill before, but this will probably be the first significant snowfall for Mid Atlantic and coastal New England urban centers of 2014, coming after a period of unusual warmth and snow-free conditions (it was close to 60F this afternoon in D.C.). Talk about a rude awakening. Expect plowable snowfall amounts, with considerable blowing and drifting from this powdery snowfall Tuesday afternoon into midday Wednesday (Boston area) before the storm pushes out to sea. This system will be followed by temperatures in the teens and single digits by Wednesday and Thursday, complicating and delaying snowfall removal efforts. Expect disruptions to transportation and facilities, with conditions deteriorating as the day goes on Tuesday, the worst conditions late afternoon Tuesday into midday Wednesday.
Paul Douglas - Senior Meteorologist -
Alerts Broadcaster
---
6 Scary Facts About California's Drought.
A perpetual fire season - no rainy season for California and much of the west coast? Chris Mooney brings up some angles I hadn't thought about in this post at
Mother Jones
; here's an excerpt: "...
Water shortages, devastating wildfires, and growing economic impacts: All could be on the way unless more precipitation arrives, and fast. Here are some scary realities about the drought:
1. It's Bordering on Unprecedented in Some Areas. According to Christopher Burt, weather historian at Weather Underground, the City of San Francisco has received only 2.12 inches of water so far in this water year. The driest water year on record was from 1850-1851, at 7.42 inches. So as of now, San Francisco is below half of the all-time record low.
2. Time in the Rainy Season is Running Out. California doesn't get steady rain all year round. Rather, it has a rainy season each year, and we're currently in it
..."
Image credit
above: NOAA/NASA.
---
Troubling Before And After
. Check out the latest image from Folsom Reservoir, just northeast of Sacramento (upper left). It should look like the image in the upper right. Keep in mind snow cover over the Sierra Nevada is 10-20% of what it should be in late January. California's wet season spills over into March, so there's still time to make a dent in a deepening, worrying drought.
---
U.S. Virgin Islands Unveils First-Ever Tsunami Evacuation Maps.
I was just on Virgin Gorda (the caves really are amazing, I have to admit), and so I wanted to share this nugget, courtesy of
Caribbean Journal
: "
As last week's earthquake in Puerto Rico reminded, the Caribbean is a seismically active region — and particularly the northern Caribbean. That's led the US Virgin Islands to debut its first-ever tsunami evacuation map, which covers St Croix, St john and St Thomas. The maps "delineate coastline inundation in the event of the Territory is impacted by a tsunami, as well as safe areas, evacuation route directional arrows, assembly points and denotes public schools and other public facilities within the inundation area," according to a statement from the office of Governor John de Jongh
..."
---
Five Amazing Facts: Solar Flares
. What's happening on the sun right now is highly unusual, possibly even historic. Check out this article at
spaceanswers.com
; here's an excerpt: "
The Sun has reached its solar maximum where its surface should be peppered with sunspots and erupting with solar flares and coronal mass ejections but, according to spacecraft, our star hasn't been this inactive since 100 years ago
..."
1. The fastest ejections reach Earth in less than two days
Solar flares are sometimes accompanied by coronal mass ejections (CMEs), huge outpourings of energy and material that travel at up to 1,000 kilometres (620 miles) per second.
- See more at: http://www.spaceanswers.com/solar-system/4426/five-amazing-facts-about-solar-flares/#sthash.y9pkYmhL.dpuf
Image credits
above: "
Four images from NASA's Solar Dynamics Observatory of an X3.2-class flare from late at night on May 13, 2013. The flare has been captured in different wavelengths to help astronomers learn more about these outbursts
."
---
The New GE: Google Everywhere
. Google is getting into hardware, especially devices that play off their expanding software and cloud reach; here's a clip from an eye-opening article at
The Economist
: "
AT GOOGLE they call it the toothbrush test. Shortly after returning to being the firm's chief executive in 2011, Larry Page said he wanted it to develop more services that everyone would use at least twice a day, like a toothbrush. Its search engine and its Android operating system for mobile devices pass that test. Now, with a string of recent acquisitions, Google seems to be planning to become as big in hardware as it is in software, developing "toothbrush" products in a variety of areas from robots to cars to domestic-heating controls
..."
Image above
: Dave Simonds.
---
Obama: Pot Is No More Dangerous Than Alcohol.
In case you missed this,
Slate
has a good summary of the president's thoughts - many of which he may have forgotten. Here's an excerpt: "..."
As has been well documented, I smoked pot as a kid, and I view it as a bad habit and a vice, not very different from the cigarettes that I smoked as a young person up through a big chunk of my adult life," Obama said. "I don't think it is more dangerous than alcohol." When Remnick pressed on whether marijuana is less dangerous than alcohol, Obama thought about it for a while and said it was less dangerous "in terms of its impact on the individual consumer," but emphasized that "it's not something I encourage
..."
---
The Tiny Project - Less House, More Life
. I like the sound of that - just getting ideas for our next home; here's a clip from
Gizmag
: "
Following in the footsteps of the Tiny Tack House and Pocket Shelter, American web designer Alek Lisefski has recently finished building his very own tiny house on wheels. After becoming tired of paying high rental costs and with the goal of owning his own home, constructing a micro and mobile house became the perfect solution for Alek and girlfriend Anjali
..."
---
---
Climate Stories....
Cold Outside? Forecast Calls For An Uptick In Global Warming Disbelief.
Scientific American
connects the dots - here's an excerpt: "
In more than a decade of reporting on climate change I can say one thing with absolute certainty. When it's cold outside, like during this recent polar vortex in the U.S., people start thinking this whole global warming thing must be overblown. The opposite is also true. Which is why the next summer of El Nino is going to do more for action to combat climate change than any activist or scientific study. Don't believe me? A new social science study in the journal Nature Climate Change backs my anecdotal experience.
.."
---
Climate Scientist To U.S. Senate: "Climate Change Is A Clear And Present Danger"
. Here's a clip from a recent article at
The Guardian
: "...
Andrew Dessler, a climate scientist from Texas A&M University, was one of the expert climate science witnesses invited to testify. In his testimony, Dessler simply and clearly articulated what we know about climate change, and why he personally views it as "a clear and present danger." Dessler's main points were,
1. The climate is warming - not just the atmosphere, but also the oceans, which are rising as a result, and ice is melting.
2. Most of the recent warming is extremely likely due to emissions of carbon dioxide and other greenhouse gases by human activities. This is supported by overwhelming evidence and hence was a conclusion of the 2014 IPCC report
..."
---
CO2 Emissions Are Being "Outsourced" By Rich Countries to Rising Economies.
The Guardian
has the article - here's the introduction: "
The world's richest countries are increasingly outsourcing their carbon pollution to China and other rising economies, according to a draft UN report. Outsourcing of emissions comes in the form of electronic devices such as smartphones, cheap clothes and other goods manufactured in China and other rising economies but consumed in the US and Europe. A draft of the latest report from the Intergovernmental Panel on Climate Change, obtained by the Guardian, says emissions of carbon dioxide and the other greenhouse gases warming the planet grew twice as fast in the first decade of the 21st century as they did during the previous three decades
..."
Photo credit
above: "
Jinhuarun chemical plant in Zekou Town, Qianjiang City of Hubei Province, China. A draft UN report says the west is increasingly outsourcing its carbon pollution to China and other rising economies
." Photograph: How Hwee Young/EPA.
---
Can Loss Of Arctic Ice Result In Drought In California?
The San Luis Obispo Tribune
connects the dots, highlighting recent research showing rapid warming in the arctic may be impacting the speed and configuration of the jet stream; here's an excerpt: "...
On the other hand, a seemingly everlasting trough of low pressure has plagued the eastern part of the country with bone-chilling cold and endless rain and snow. So how could warmer temperatures over the Arctic affect the country's weather pattern? Jennifer Francis of Rutgers University gave a persuasive presentation, "Wacky Weather and the Disappearing Arctic Sea Ice: Are They Connected?" at the Weather and Climate Summit in Breckenridge, Colo., last year. Her hypothesis is that Arctic Amplification is producing more persistent and stronger ridges of high pressure and deeper and longer-lasting troughs of low pressure as the amplitude of the polar jet stream increases
..."
Photo credit above: "This recent photo of Lake San Antonio shows its declining levels because of the ongoing drought." JOHN LINDSEY.
---
Is Climate Change Humanity's Greatest-Ever Risk Management Failure?
The short answer: yes. Here's an excerpt of a post from climate scientist Dana Nuccitelli at
The Guardian
: "
Humans are generally very risk-averse. We buy insurance to protect our investments in homes and cars. For those of us who don't have universal health care, most purchase health insurance. We don't like taking the chance - however remote - that we could be left unprepared in the event that something bad happens to our homes, cars, or health. Climate change seems to be a major exception to this rule. Managing the risks posed by climate change is not a high priority for the public as a whole, despite the fact that a climate catastrophe this century is a very real possibility, and that such an event would have adverse impacts on all of us
..."
Image credit
above: "
Our gamble may lead to an unstable future climate
." Photograph: Don Mcphee.